According to marketing firm Epsilon Targeting's latest annual Consumer Channel Preference Study, the channels consumers prefer to receive marketing messages via remain relatively consistent, with, again, direct mail being the most preferred delivery method.
 Key Findings: DIRECT MAIL PREFERRED OVER ALL
Across all key verticals, with the exception of hearing about online sites to shop at, direct mail is overwhelmingly preferred to email for obtaining product information, offers and deals.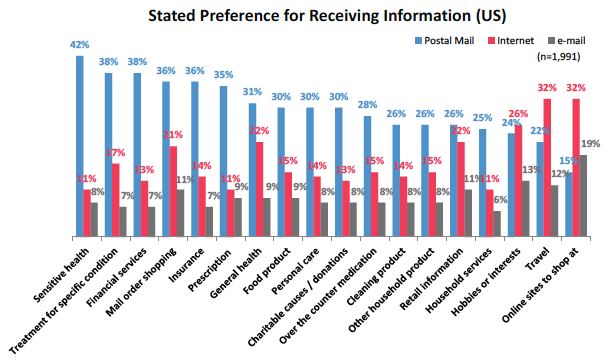 Source: Epsilon, Channel Preference for Both the Mobile and Non-Mobile Consumer, 2012
CONSUMERS ENJOY RECEIVING MAIL AT HOME
Examining variations between email and online preferences, Epsilon found the majority of U.S. respondents agree with the following statements:
I get a lot of email that I just don't open (73%)
I am getting more email now versus a year ago (70%)
I get too many emails in one day (67%)
I enjoy checking the mailbox for postal mail (62%)
I enjoy getting postal mail from brands about new products (59%)
Comparatively, only 39% of respondents say they enjoy getting email from brands about new products and 6% like to receive mobile offers. Mobile device users were 40-50% more likely to prefer email and online communications, respectively, than non-users.
TOP REASONS CONSUMERS LIST FOR PREFERRING OFFLINE, ONLINE
Convenience, ability to easily reference and portability are the top reasons respondents prefer postal mail over email/online:
Can read the info when it is convenient (73%)
Can refer back to the info when needed (61%)
Can take info easily to different place (40%)
More private if sent through the mail than sent by email (36%)
Top reasons respondents prefer email/online over postal mail are much the same as above, just preferred by less respondents:
Can refer back to the info when needed (45%)
Can read the info when it is convenient (42%)
Can pass info easily along to others (38%)
TOP TRUSTED SOURCES
Top source of trusted info for U.S. consumers is friends and family (52%), followed by newspapers, company websites and search engines (all at 22%). The least trustworthy sources of information are online and social media:  email (11%), Facebook (8%) and YouTube (6%).
WOMEN PREFER DIRECT MAIL MORE THAN MEN
Women, more than men, prefer direct mail for obtaining information, with females ages 18 to 24 with incomes under $50,000 using more direct mail as an information source.
PERCEIVED USEFULNESS OF SOCIAL MEDIA ADS REMAINS LOW
Consumers still have a relatively low level of agreement on perceived usefulness of social media advertising. In 2011, 13% of U.S. consumers found ads on social media sites useful. In 2012, 14% say social media ads are engaging.
LOCATION MARKETING NOT EMBRACED
Epsilon found consumers aren't quite ready to embrace the concept of location marketing — 80% of U.S. consumers aren't interested in receiving digital offers during or after a visit to a store.
About: The 2012 study is based on completed surveys from 1,991 U.S. consumers and 3,816 Canadian consumers. The survey is representative sampling of U.S. and Canadian consumers. Conducted in June 2012, a 15 minute questionnaire was administered to respondents 18 years of age and older. Statistical significance is calculated at the 95%.
Reprinted curtsey of Print in the Mix, published by the The Cross-Media Innovation Center (CMIC) at RIT. Thank you for allowing us to share your fantastic findings. Source: Epsilon, Channel Preference for Both the Mobile and Non-Mobile Consumer report, accessed December 5, 2012.